Grilled Chicken Tacos with Strawberry Salsa
April 30th, 2018
---
Strawberry season is here and at its peak! With that being said, we've got a twist on a chicken taco recipe. Change up your old recipe with the addition of strawberry salsa. This recipe was sent to us from our Women's Committee president, Kathy Anderson.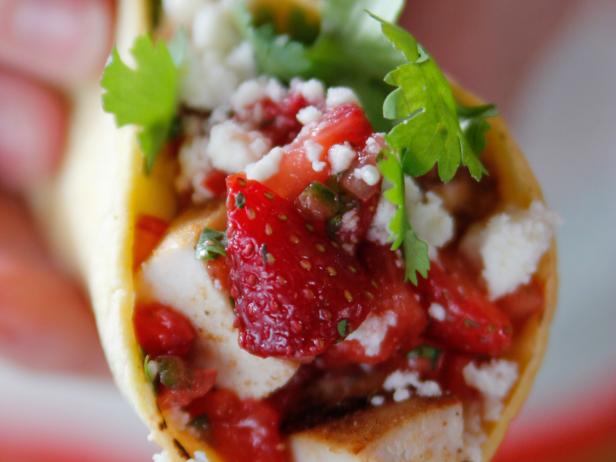 Ingredients:
4 boneless, skinless chicken breasts
1/4 cup extra-virgin olive oil
1/4 cup tequila
1 tablespoon chili powder
1 teaspoon ground cumin
2 limes
Kosher salt and freshly ground black pepper
1 quart strawberries, diced
1 medium red onion, very finely diced
1 red bell pepper, seeded and very finely diced
1 jalapeno, seeded and minced (include some seeds for spice)
1/2 bunch fresh cilantro, chopped
12 corn tortillas
Crumbled queso fresco or cotija cheese, for serving, optional
Directions:
Put the chicken breasts in a resealable plastic bag and add the oil, tequila, chili powder, cumin, the grated zest of both limes and some salt and pepper. Seal the bag and squish it all together. Refrigerate for 30 minutes or up to 2 hours.
While the chicken is marinating, make the salsa. Put the strawberries in a bowl along with the onions, bell peppers, jalapenos and most of the cilantro, reserving some for garnish. Add some salt and the juice of 1 of the limes. Mix it all together, cover and refrigerate.
Heat a grill pan over medium-high heat. Remove the chicken from the bag, shaking off any excess marinade. Grill until the chicken is well browned and cooked through, 5 to 6 minutes per side. Remove and let rest on a plate. When just cool enough to handle, shred the chicken with a fork.
To serve: remove the salsa from the fridge, taste and adjust the seasoning with more salt or lime juice. Heat the tortillas over a flame or in a microwave and keep warm. Fill a tortilla with some of the shredded chicken and top with some salsa. Serve topped with extra cilantro and the cheese, if using. Cut some wedges from the remaining lime to serve on the side.
*recipe from Pioneer Woman